Skip to Content
Enhanced Pool Deck Coating in Austin, TX
You've probably put a lot of thought into your pool, whether it was there when you bought your home or you had it installed yourself. Why not put an equal amount of time and energy into making sure your pool deck is durable, safe, and attractive? Texas Premier Coat Resurfacing offers pool deck coating using concrete overlays that will enhance the aesthetics and quality of your entire yard and make using your pool safer and more enjoyable.
Texas Premier Coat Resurfacing employs an experienced team of professionals near Austin, San Antonio, Lago, Georgetown, and San Marcos. With a new decorative deck surface, you can add a whole new level of beauty and luxury to your pool and spa area and your backyard. We can help you update and upgrade your pool deck with our unique composite coating for added durability, appearance, and safety or a timeless flagstone surface. From the deck tile to the coping, our team at Texas Premier Coat Resurfacing can handle every aspect of your pool deck overlay project.
Your options for a new pool deck surface
When you have your pool deck resurfaced by our experienced team, you have a few different options.
First, there's standard pool deck coating that creates the look of a stone surface without the price tag associated with stone installation. This involves a concrete overlay available in many different colors being hand-carved and texturized to resemble stone.
You could also opt for a tile look. We can overlay concrete tile designs and color match grout to create an elegant tile surface on your pool deck while retaining the safety and comfort benefits offered by pool deck coating.
Finally, we can install flagstone on your pool deck. While more expensive than a concrete overlay, nothing looks more like real stone than actual stone. If you choose flagstone, you still have plenty of options when it comes to stone size, texture, and stain.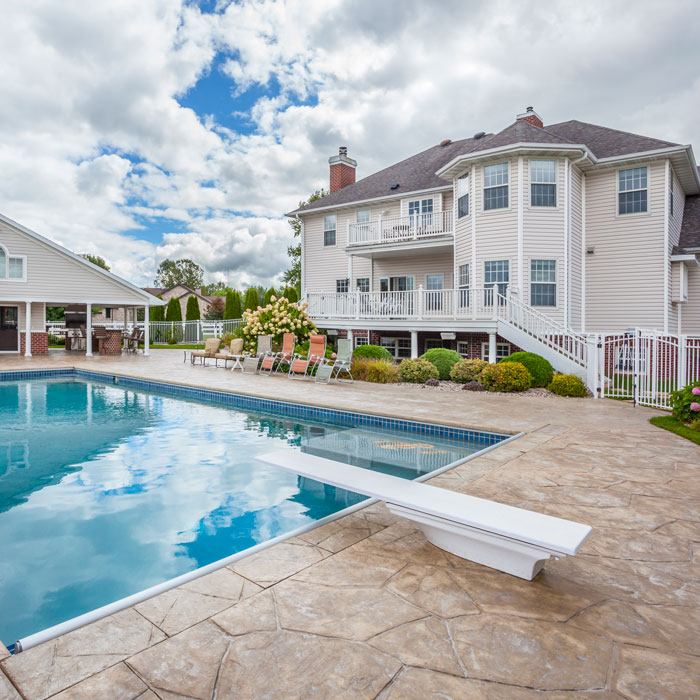 Four reasons to consider a newly coated pool deck
There is no reason to settle for a boring, outdated, or worn pool deck or one that's unsafe or uncomfortable. Resurfacing your pool deck offers a variety of benefits and is an easy way to completely change the look and feel of your pool area.
It's time to refresh the look of your pool deck: Over time, a pool deck can start to look dated. Concrete wears down and fades, or you might simply be ready for a new surface. A concrete overlay can create a beautiful new surface at a minimal cost.
You want to upgrade the safety of your pool: As anyone who owns a pool knows, you can never be too safe, especially when there are children and animals in your household. Pool deck coating provides added traction, decreasing the risk of poolside injury.
You want to increase your pool deck's durability: A pool deck with a concrete overlay can last a lifetime. Bare concrete can be susceptible to storms, changes in the weather, chemicals in the pool, and more. After it's been coated, your deck will withstand these elements.
You want to make your pool deck more comfortable: After hours in the Texas sun, a concrete pool deck can get too hot to walk on with bare feet, which can severely decrease the enjoyment of using the pool. Pool deck coatings don't absorb UV rays, meaning your deck will stay cooler.
Sit back and relax
At Texas Premier Coat Resurfacing in Austin, we understand that relaxing in your own personal oasis is a luxury. Each unique project is handled by one of our highly skilled employees to ensure we deliver the results you envision. Let us elevate your backyard atmosphere with a beautiful pool deck overlay.
Pool deck resurfacing can enhance your pool by:
Creating a custom makeover
Increasing property value
Protecting your assets
Providing a relaxing atmosphere