Skip to Content
Expert Concrete Staining Services in Austin, TX
Texas Premier Coat Resurfacing provides expert concrete staining services from Austin to San Antonio. We are a fully bonded and insured company that offers free estimates and boasts competitive prices. If you have a concrete surface on your property, such as a driveway, patio, or pool deck, that you want to reinvent, concrete staining is the most cost-effective way to transform the surface into something you'll love to look at. Our concrete is tested to stand up to 6,200 psi of compression, offering you high-quality, durable resurfacing options.
The Benefits Of Stained Concrete
Staining is an economical and highly versatile way to upgrade the look of a new or existing concrete patio. Homeowners can enhance their property with a stained concrete patio or create a beautiful aesthetic with stained concrete floors. You can add subtle hints of color, bolder design accents, and even custom designs with stained concrete. Furthermore, because concrete stains penetrate deep into the concrete surface, they produce fade-resistant, permanent color. Unlike with a paint or coating, the color won't flake off or peel away. Stained concrete is beneficial because it is durable, elegant, low-maintenance, and affordable.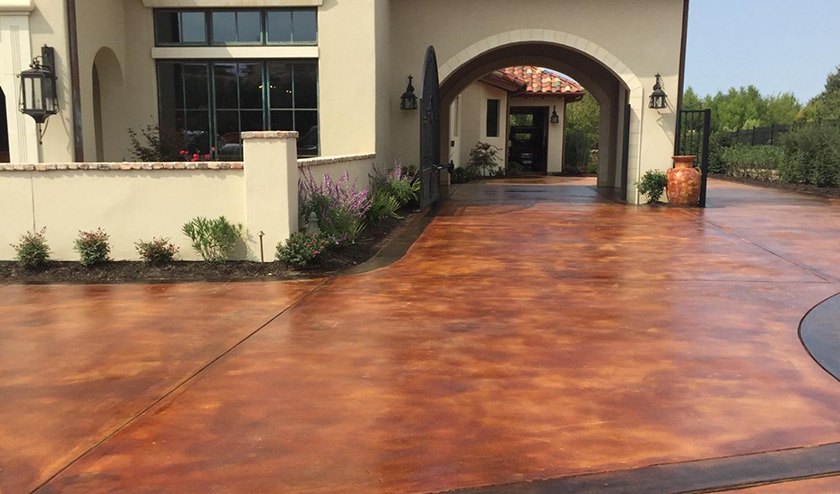 The Two Types Of Concrete Staining
At Texas Premier Coat Resurfacing, we approach concrete staining in two different ways. The first is as a standalone service. Typically, customers will ask what constitutes an easy way to make a significant change in their driveway or other concrete surfaces. Our answer is always concrete staining, especially if you are not ready to commit to a full resurfacing or overlay project. The second way we approach concrete staining is in conjunction with a concrete overlay. Our craftsmen hand-carve and texturize a concrete overlay to resemble tile or rock. In some overlay materials, the color is actually mixed in with the overlay. Still, we prefer to stain the concrete once the overlay material dries.
Many people get concrete or composite overlays on their property because the existing surface is old and worn down. If you have a newer surface but don't like the standard color of bare concrete, staining is a great solution. Because concrete tends to be porous, the stains we use are infused into the surface, creating a permanent color that's resistant to fading over time. Some stains are also sealants, which help protect the surface in question.
Why Choose Texas Premier Coat Resurfacing?
In addition to concrete staining services, the professional team at Texas Premier Coat Resurfacing provides concrete overlays, pool deck and patio resurfacing, pool deck coating, driveway repair and resurfacing, epoxy garage floor coating, and so much more. We deliver top-notch services, unparalleled expertise, and exceptional customer service with every job we take. In all that we do, we put our customers first.
Contact Us Today For Concrete Staining Services
At Texas Premier Coat Resurfacing, we offer a wide range of concrete and epoxy flooring services throughout Austin, TX, and the surrounding areas. If you're a local homeowner looking for expert concrete staining services, you've come to the right place. Contact us today to schedule a free estimate.