A Beautiful Pool Deserves A Beautiful Deck
Decorative concrete overlays will enhance the aesthetics and quality of your entire yard and make using your pool safer and more enjoyable. Texas Premier Coat Resurfacing employs an experienced team of professionals near Austin, San Antonio, Lago, Georgetown, and San Marcos.With a new decorative deck surface, you can add a whole new level of beauty and luxury to your pool and spa area and your backyard. We are ready to help you update and upgrade your pool deck with our unique composite coating for added durability, appearance, and safety. From the deck tile to the coping, our team at Texas Premier Coat Resurfacing can handle every aspect of your pool deck overlay project.
Top Reasons To Resurface Your Pool Deck
There is no reason to settle for a boring, outdated, or worn pool deck. Resurfacing your pool deck offers many benefits and is an easy way to completely change the look and feel of your pool area.
A Refresh
If you are considering a pool renovation, it's worth considering the major benefits of updating your pool deck as well. Pool deck resurfacing will imbue your entire pool area with new life that will complement your pool renovations for a completely refreshed outdoor space.
Traction
Pool deck resurfacing also adds texture to your pool deck, which improves traction and reduces the risk of slips and falls. Added traction also helps to keep furniture in place, which reduces wear and tear on the pool deck's surface.
Lifetime
A concrete pool deck can be susceptible to damage from the weather, as well as from pool chemicals and constant use. A protective composite coating will extend the lifetime of your pool deck and improve its appearance throughout the years to improve the returns you gain on this investment.
Comfort
If your pool deck holds heat from the sun, a special coating can be added to reduce heat absorption and create a more comfortable surface for bare feet. UV-resistant coatings will further reduce heating and protect the color of your concrete over time.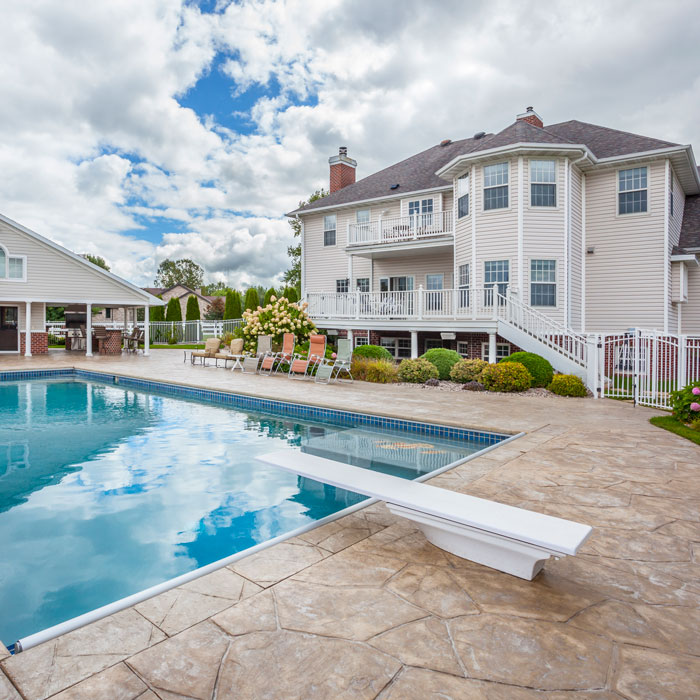 Sit Back & Relax
At Texas Premier Coat Resurfacing of Austin, we understand that relaxing in your own personal oasis is a luxury. Each unique project is handled by one of our highly-skilled employees to ensure that we deliver the results you envisioned.  Let us elevate your backyard atmosphere with a beautiful pool deck overlay.
Pool deck resurfacing can enhance your pool by:
Creating a custom makeover
Gaining property value
Protecting your assets
Providing a relaxing atmosphere